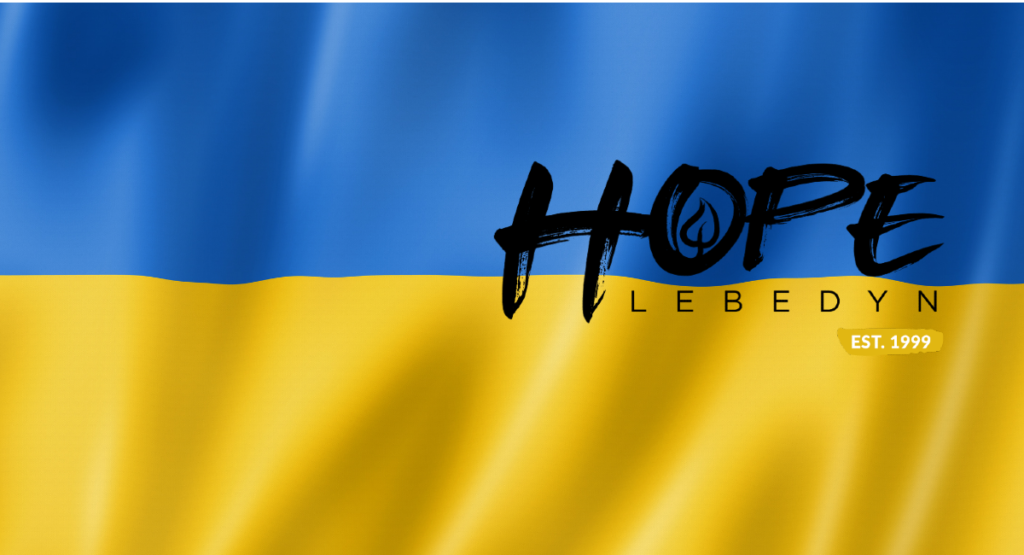 Support the work of Hope Lebedyn:
If you would like to support us financially you can do so below. Remember, if you are a UK taxpayer, please confirm that you would like us to claim Gift Aid on your donation. This will add 25p to every £1 you give.

Dear Friends,
The war in Ukraine continues to reveal new atrocities daily. The loss of life grows with 216,000 Russian soldiers alone reported to have died as of 13th June 2023. Ukraine has not suffered the same level of deaths, but the toll on family living and the innocent has been great. Over 65% of the families in Ukraine have been displaced from their normal place of home. Millions have fled the country, splitting families. In Sumy the area has been hit badly by missiles, with daily air raid sirens causing uncertainty and fear.
The team in Lebedyn, Sumy, have been doing an amazing work, and working tirelessly in reaching out to the people locally. As far as we know we are the only active Christian charity working in the region providing vital help and bringing hope.
The impact has been such that many have come to faith. There is a growing work with all under 18's in the region, along with providing extensive help and supplies to those living in desperate situations. People have fled from the south into Lebedyn and the Centre has been the hub from which all help has flowed out. The team have tried to reach out and help all who have asked, and we have seen the miraculous happen from the tragedy of war.
There are ambitious plans for the summer, and we are stepping out in faith to achieve this and, through this update, letting our supporters know both our financial and prayer needs.
Five camps are planned this summer, reaching a multitude of children and youth with the good news of Jesus. Many of our existing team members have become Christians through past camps, so we know the level of impact this ministry achieves. There are also plans to do a camp in a village right near to the Russian border for which prayer cover will be so important.
In addition, we have some practical needs. The playground needs to be finished and sadly our main supporter had to pull out. One of our vehicles is not suitable for use as it is too large and could be targeted by missiles. The other has had to be taken out of commission due to age and wear & tear from the damaged roads.
Food prices have gone up dramatically and we continue to give away bread from our bakery to those that just cannot afford any food.
I know that many of you reading this update have been so generous with finance, support and prayers through this past season. However, if you are able to continue your support through our new season we would be really grateful, and continued prayer support from you is invaluable.
The Summer camp programme will cost £15,000, the vehicles, £17,000, and the playground £13,750. This along with all the workers support money totals £50,250 needed this summer.
There are two ways we would love you to consider supporting us. Monthly donations are a real help to enable us to budget and be able to support the team ongoingly. Do you know that:
• Just £5 a month will support one child to attend one of our camps for a week and give them a bible.
• £10 a month will help us to bake 100 loaves of bread for distribution.
• £25 a month would cover one month's support money for one of the team.
A one-off donation is an enormous blessing, and is very helpful on large projects. If you are a UK taxpayer, gift aid helps to boost your gift enormously.
For details on how you can give please visit our Support Us page by clicking here, and you will find the details there. Alternatively, please email at info@hopelebedyn.org if you have any queries and we will get straight back to you.
Our thanks again for standing with us through these past 16 months. There is still much work to be done!
Every blessing,
Peter Martin
Founding Director of Hope Lebedyn