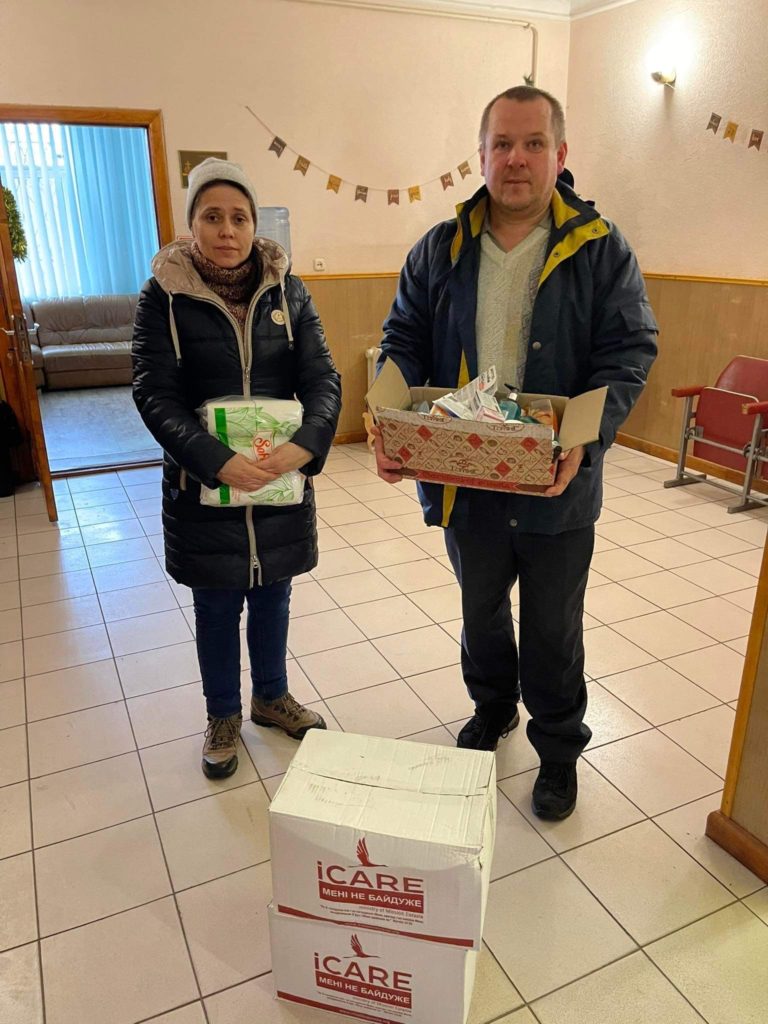 Support the work of Hope Lebedyn:
If you would like to support us financially you can do so below. Remember, if you are a UK taxpayer, please confirm that you would like us to claim Gift Aid on your donation. This will add 25p to every £1 you give.

Dear Friends,
The same viruses as we have been suffering with in the UK have hit the team in Lebedyn. Several of them have been suffering with high temperatures and this flu-type virus. However, the work has continued. Every day aid is being given out and Friday and tomorrow (Monday) the team are handing out nappies to parents with young children for free. This follows a delivery of some new stock donated by another charity. The children's and youth work continues through this weekend as normal.
Refugees from Bakhmut...
Since the scares of a missile being downed in the city a week or so ago, things have been a little calmer, but sirens go off all the time especially at night. Nearer to the border it is a different picture, with towns and villages still being hit regularly.
Most of the intense fighting is down near Bakhmut which has featured in our news this past week. Above is a picture of Tanya and Oleg who arrived in Lebedyn this week from Bakhmut along with their 2 children.
They say that their town is unrecognisable and more than half the city has been – quote - "wiped off the face of the earth!" They did not want to leave and were involved in the local church. A rocket crashed into their house, but thank God they were sitting down in their basement and were kept alive. They were recovered from the building but lost everything. They arrived in Lebedyn standing in their slippers!!
They were given an apartment to rent in the centre and the team have helped them get the clothes and aid they need to exist including food packages. They were so grateful we could help, and we have created an additional fund and sent it out to the team in order to help other people Like Tanya and Oleg who similarly have arrived with nothing until we can get some more supplies of clothes in.
Services this week...
Tuesday was a tough day. Although Bohdan was suffering with this virus, he had a call from Pastor Sergey for his help. At the weekend Sergey's cousin and brother-in-law died suddenly. This was due to illness but with the lack of doctors around there is not much help if you get seriously ill.
In their culture they have the funeral within 3 days of death, so Sergey had to go and take the funerals. At the centre services were being held and aid was due to be given out so Bohdan stepped in and took the prayer service and then a service for those that are not Christians. Both had over 80 people in attendance and many received aid and help where it was possible to do so.
Special request...
I cannot believe that we are only 6 weeks short of the first anniversary of the start of this war (24th February). To mark this moment, Hope Lebedyn, together with Victoria Baptist Church in Eastbourne, will having a special prayer and thanksgiving service on SATURDAY 25TH FEBRUARY AT 4.00PM at VICTORIA BAPTIST CHURCH, 7 Eldon Rd, Eastbourne BN21 1UE.
War permitting, we will have the team being streamed into the church so we can hear directly from them, and we will have time to pray and worship in support. I am reminded that in one of my very first updates I wrote that after the war broke out, the church and mission centre got together to give thanks to God for their safety. So we will replicate that on the 25th.
We will start with some tea and cake, with the service starting at 4.30pm. The reason for this timing is firstly it enables the team to join us as they are 2 hours ahead and if we did it much later they would be outside of their curfew. Secondly, it means that for those that need to travel it is not too late. Victoria Baptist Church seats 450 people, and we would love it to be as full as possible to show our support for these wonderful people. Please do email me if you have any further questions.
Thank you so much for your continued support and look forward to physically seeing as many of you as possible on the 25th February!
Peter Martin
Founding Director of Hope Lebedyn