Support the work of Hope Lebedyn:
If you would like to support us financially you can do so below. Remember, if you are a UK taxpayer, please confirm that you would like us to claim Gift Aid on your donation. This will add 25p to every £1 you give.
Dear Friends,
We wanted to share with you about some of the recent work taking place in Lebedyn. You will also find a list of prayer items that we would be grateful if you could pray into with us.
Every day is different and over these past few days there has been less missiles fire than previous weeks as it had been very intense. When we spoke to both Bohdan and Alla there was an amazing calm. They know they cannot predict what tomorrow can bring but there was lighter spirit there which was lovely to see. They and the other team members are coping amazingly well with the daily things they must face as a country at war. Alla, our children's worker and Luba have settled in very well and already bringing some relief to Bohdan's workload.
The team are continuing to plan many new activities through the autumn of 2022, including a camp programme at the end of October and at Christmas. The work does not stop. The need is greater than ever and the risk seems to be as high as ever. Please keep upholding them in your prayers for safety and energy.
Group gatherings for teens during the week:
We are still seeing good numbers with teens meeting in the evenings and weekends – air raids permitting! The photo below was taken last Friday and Bohdan was being having many questions thrown at him!
Supporting nearby villages:
Last Wednesday, the team visited a village nearby called Hryntsevo where our previous children's worker did some work. They really needed food and support and we were able to help.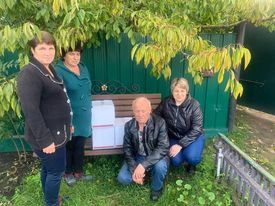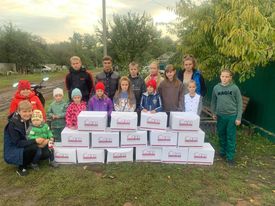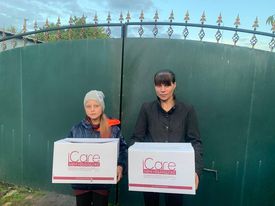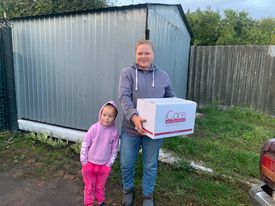 Prayer requests:
---
1. Children's education and that schools buildings won't become targets for bombing
Our Mission Director Bohdan has informed me that the government want the children to go back to school, however, both parents and teachers are saying it is not safe as Russians are targeting schools and there is currently no provision of bomb shelters. Parents and teachers are angry and tensions are rising because of this. Please pray for wise decisions and for the protection of both the children and teachers.
2. Difficulties arising with the exchange rate
One of the biggest challenges we face is the £UK Pound to $US exchange rate. This is hitting the budgets hard as we are struggling now to get $1.08 to £1 when our budgets are based upon $1.35 to £1. This means the funds donated don't go quite as far as they would have done. Thankfully, we were able to buy in advance some dollars at a good rate but we have now used these. Let's hope and pray that this improves soon as the autumn camp monies need to be sent out. It means our budgets are around 30% more as a result.
3. Those who have been conscripted and are fighting on the frontline
Please pray for the many people who have been conscripted and fighting on the frontline. Pray for their safety and for their families.
Furthermore, many people that are left in the area are now being called up to work in some capacity or another. It is not massively popular as it is a challenge to do this with children not back at school properly and many of the males away fighting. It also means there is less opportunity for children's clubs through the week but at the weekend we are planning to do more.
4. The provision of computers for future workshops
Over the years we have held computer workshops to help the community since many do not have access to computers or Wi-Fi. Our computers are now very old and need replacing. To fulfil our vision we really need to raise around $20,000 to get this all back up and running. Please pray for the provision of this funding so we can continue run workshops with different members and groups within the community.
5. The provision of more clothes and aid share with families in great need
The team have been working hard distributing aid to those in need. However, the need is still as great as ever and we still need more clothes, so please join us in praying for this.
The team are being resourceful and reaching out daily into the local communities to help. They will be giving much needed aid to villages and help through the rest of August, whereby some villages have people living in horrendous living conditions.
6. More Bibles to carry out their youth work and to share with the community
Our youth grow is continuing to grow as its a place where youth are permitted to gather. Our registered list now approaches 100! We've recently have had to purchase a further 40 chairs this week to accommodate the growth. 2,000 Bibles have now been shared out. We hope to find a supply for more soon (possibly at the end of October/early November) but please pray into this with us.
Thank you once again for your continued support – it is very much appreciated.
Every blessing,
Peter Martin
Founding Director of Hope Lebedyn