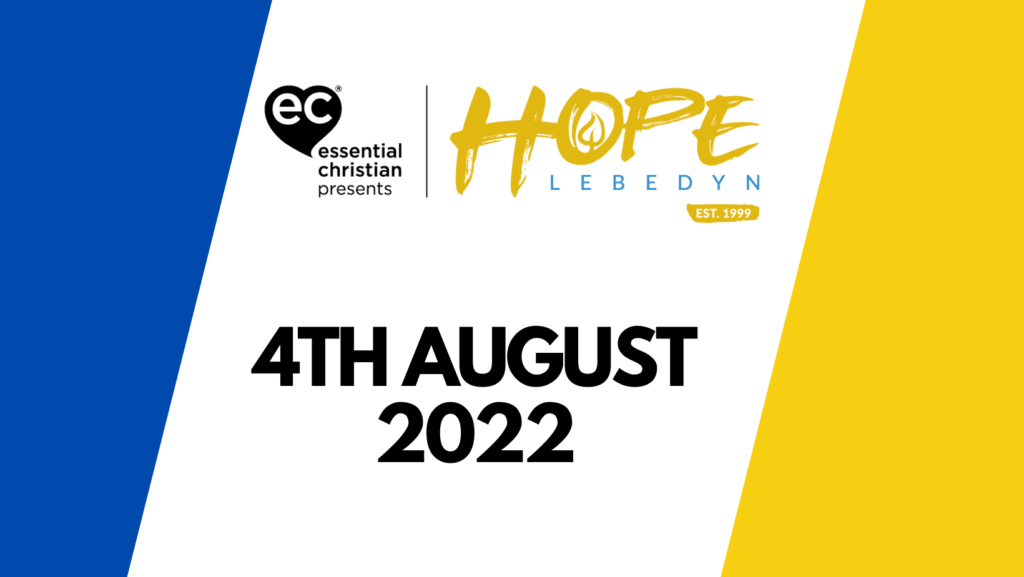 Urgent support required:
If you would like to support us financially you can do so below. Remember, if you are a UK taxpayer, please confirm that you would like us to claim Gift Aid on your donation. This will add 25p to every £1 you give.
Dear Friends,
We wanted to share with you about some of the recent work taking place in Lebedyn. You will also find a list of prayer items that we would be grateful if you could pray into with us.
Thank you to each person, business, organisation, and trust who has supported the work of Hope Lebedyn. There are many people that have contributed to the cause in so many ways. Your continued help makes a real difference, so thank you!
The situation in Lebedyn and Sumy is still unchanged from my previous reports. There are still sirens that sound but that is classed as normal for now. The threat of another Russian incursion is always there so people are learning to live without planning ahead too far. Each day continues to bring new challenges. The team are being resourceful and reaching out daily into the local communities to help.
Distributing more parcels!
We are so grateful to the ongoing partnership we have with Mission Eurasia and their iCare programme. As a reminder, these boxes in the photos below provide meals for seven days for four people. We are nearly out of stock but it looks like we can access more of these in the coming weeks which is great news!
Some days the team are baking 100 loaves of bread which go out straight away. We have been able to get hold of several tonnes of flour and oil to make this and help others to do the same. Each week people come to the church centre in the evening for a meeting and then they are given aid also. These numbers are growing and have a great positive impact on the people.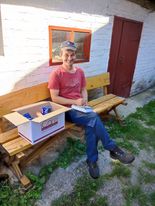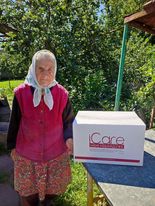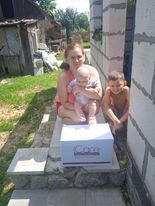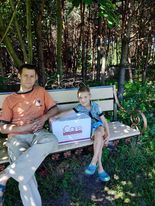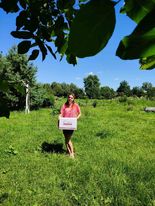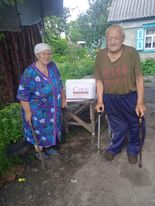 Baptisms by the river
On the Sunday our Mission Director Bohdan preached at 3 services. They also had a baptismal service at the local river where they held the baptisms.
The people who were baptised were all young men and women all who have become Christians through the work of the centre over these past months or so. This was then followed by two other services at the church and in the evening all the church gathered at the centre bought food and ate together. The centre provided much of the food as well and baked bread so they could share this together. It was like there was no war on for a short while.
Delivery of supplies to the local orphanage!
Monday, when the Camps were starting again, Bohdan and Farmer Sergey visited the local orphanage they've been supporting. I mentioned in my last update that we had been in contact with the local leader to see how we could help. Food is unfortunately in short supply and clothes are hard to get. Additionally, nappies and healthcare products are very much needed.
As you can see from the photos below the car was loaded up and they were very grateful. We are still working out the best way to help Ivan with his medical care but we are committed to making life easier for this young man who is coping with the loss of a leg and grief of losing his dad in such a traumatic way.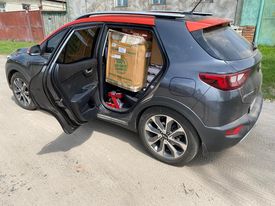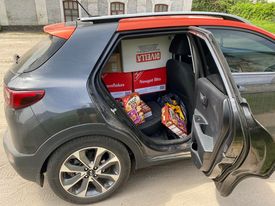 Prayer Requests:
1. The delivery of a special charity event for low income families
Our Mission Director Bohdan is preparing for a special charity event for low-income families. Every event is ticketed for security and safeguarding purposes and so they know who to expect. Tickets have been flying out so we might need to do more than one event – we will see! The puppet show will perform, family activities held and aid will be given to help those most in need. Please pray that it will be a very special evening for everyone!
2. The provision of more clothes and aid to share with families in great need
The team have been working hard distributing aid to those in need. However, the need is still as great as ever and we still need more clothes, so please join us in praying for this.
The team are being resourceful and reaching out daily into the local communities to help. They will be giving much needed aid to villages and help through the rest of August, whereby some villages have people living in horrendous living conditions.
3. Receiving funds we send out from the banks
One of the big problems we are still experiencing is getting the funds we send out from the banks. Currently, there is a national shortage of $US and therefore many have drawn down all their funds into this currency and fled out of the region and country. It has been a real challenge for Bohdan but please pray that they can continue to access the funds going forward.
Thank you
I am so grateful for all your support. As always, all the team send their thanks and greetings on behalf of the team and the church there.
Every blessing,
Peter Martin
Founding Director of Hope Lebedyn