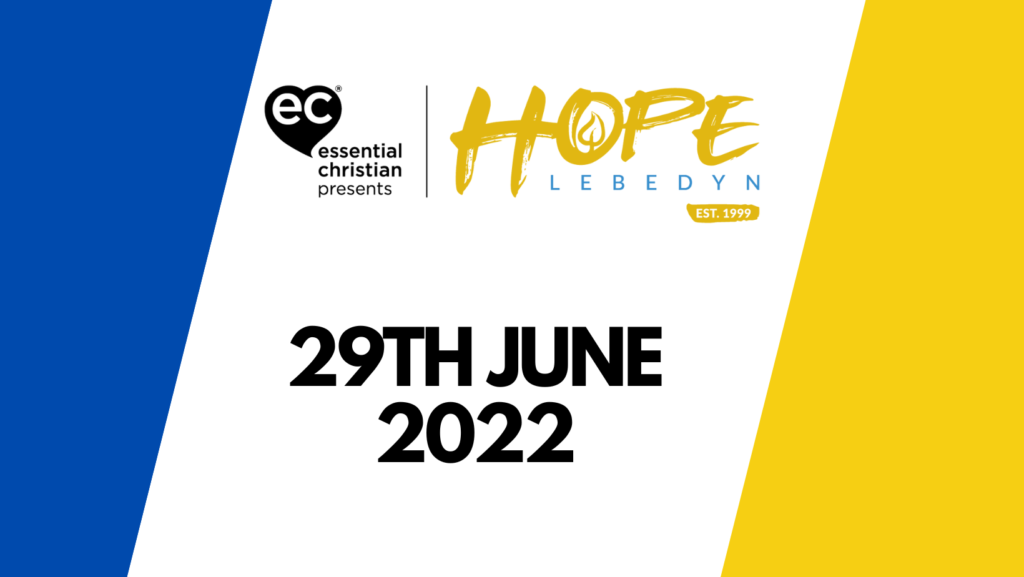 Urgent support required:
If you would like to support us financially you can do so below. Remember, if you are a UK taxpayer, please confirm that you would like to reclaim Gift Aid on your donation. This will add 25p to every £1 you give.
Dear Friends,
We wanted to share with you about some of the recent work taking place in Lebedyn. You will also find a list of prayer items that we would be grateful if you could pray into with us.
Thank you to each person, business, organisation, and trust who has supported the work of Hope Lebedyn. There are many people that have contributed to the cause in so many ways. Your continued help makes a real difference. The team thank everyone for their love, prayers, and support. Thank you all.
A special delivery at the centre!
Whilst aid continues to be given out, the team have not been travelling out to the villages since Bohdan, our Mission Director, has been helping look after their new-born daughter and his family. The team did receive a special delivery from our friends in Germany full of aid and other various items, including clothes, which have been desperately needed. This aid will support Lebedyn and 4 tons will also be used to support another church-based centre in the south.
The specific items that were included as part of the delivery were as follows:
Various foods
Clothes
Shoes
7 x Bicycles of various sizes
10 x infant car seats
30 x mattresses (these are important for the refugees coming into the area)
On top of the aid. the team also received 2 tons of flour and 200 litres of cooking oil. The other 1.5 tons of flour we received has now been used or allocated. You can also see how many sacks of vegetables we have been able to get hold of as well which is so important for healthy eating. It really is amazing how many meals the team at the centre are now able to facilitate. The original centre has now become more like a warehouse at times and we are so thankful for God's provision!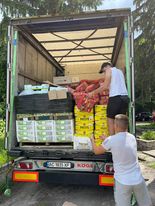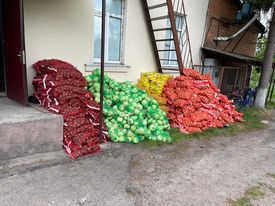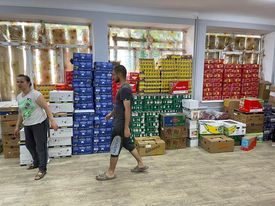 The team received a special delivery from our friends in Germany, which included 5 tons of aid for Lebedyn!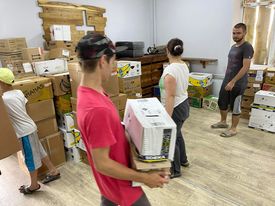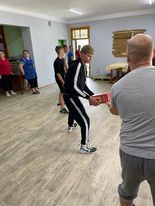 Planning for a busy and exciting summer!
The team continue to plan for a very busy summer, where they will open up their doors to lots of young people who are need of fun, fellowship and hope.
Last week was a lot calmer which provided an opportunity for the team to start preparing for the summer camps. These will start on the 4th of July. Youth camp registration has opened up this week and registration for the children's camps have already opened. In fact, since registration opened, the team have been inundated with requests. As it stands, around 70% of the children will be over 7 years old, with the remainder part of the younger age group of 5-7s.
Over 200 have been registered for the 2 weeks and we know there will be many just turning up. Please do join us in praying for the team as they continue to pray, plan and prepare for a busy summer ahead. We pray that many young people will find much needed fellowship, experience laughter and fun and find hope in the powerful message of salvation as the team engage in activities and discussions with them!
A story of hope
The state of war in Ukraine is not reported on nearly as much as before and yet the effects are greater than ever. However, amidst the constant fear, weariness and despair there is indeed hope. In fact, there has never been such a demand for Bibles as people turn to God for hope in their lives and the team are sharing with me many beautiful stories of hope where God is clearly at work, including a recent story of a lady who lives locally as it now coming to the church services!
The story of this lady who now attends church was told by one of the church members and been translated through our translator. We hope you find just as much hope in the story as we did!
It was the first day of the war, 24th of February, you could hear 2 huge explosions. military transport, and the buses with the soldiers which were moving towards Sumy.

Sounds of alarm, curfew, it is the martial law in our country. From 6pm our town stops, freezes. Every day the tension is growing. Hearing the alarm people are scared and running to the bomb shelter in our pedagogical college or in the basement of the block of flats. Every time when we hear the alarm together with my husband we sit down in our hall and pray to our Lord and give everything into His loving hands. He is in control.

I entered my neighbour's home. Her name is Tamara and asked her, "How are you?"

She replied, "I just can't stand it, I am dying from the fear, I sleep on the mat in the hall. When I hear the alarm, I go downstairs into the basement. My legs hurt, I can't walk fast, I can't be as fast as others. And what about you?"

I responded and reminded her that we weren't going anywhere and that must put our hope onto our Lord, pray to Him and believe that He will never forsake His children. He will protect us and He is in control. Of course, we must go to God, to his people, we must pray, we must ask for forgiveness of our sins, and to ask for His protection upon us. He gives us strength to go through the difficulties. Only in Him is our power, hope, love and protection.

Since then, Tamara has started to come to our church, she asked for a Bible, she is trying to read it but she has some difficulties with understanding it. But we know that God has a plan for everyone, only He can open spiritual eyes of each person and only He can see our hearts.
Prayer Requests:
1. Prayer our Mission Director's new-born baby girl and his family
Our Mission Director Bohdan and his wife are now adjusting to living life as a family of 6. Whilst Bohdan has returned back to work as they continue supporting the community and prepare for the summer camps, please do join us in praying for their strength and fresh energy as they adjust to the arrival of their daughter.
Please also pray for their new-born baby and that she will continue to remain healthy and also sleep well. In fact, Bohdan and I had a video meeting last week and he only managed to get 2 hours of sleep one night - the joys of a new baby!
Please pray for their strength, protection, and precious family time despite a busy season with work too!
2. The provision of more Bibles for adults
The team are still in need of Bibles for adult, so please pray for this provision and for people's hearts to continue to be opened to the good news of salvation and hope. Please also pray for the adults and children experiencing trauma and for resources to help support them through this.
3. For wisdom as the team prepare for this year's summer camps
The team continue to prepare all the site for the camps whilst still supporting those around the community that need help.
Please pray for wisdom and peace as the team continuing preparing the camp programme and all the remaining details they are still trying to sort out amidst some uncertainties.
We believe and pray that this year's summer camps will serve as a haven of fun, games, and good fellowship for many young people entering our centre!
4. For access to fuel which is currently in extremely limited supply
The shortage of fuel is still a big problem. Due to the worsening fuel situation, the team have mostly been focusing on doing more activities and gathering people together at the centre. However, as the team planned for the future, they are hoping to expand the work into the villages. Please do pray for provision of fuel despite the increasing cost for important travel visits in the future.
Thank you
I am so grateful for all your support. As always, our Mission and Music Director, alongside all the rest of the team send their thanks and greetings on behalf of the team and the church there.
Every blessing,
Peter Martin
Founding Director of Hope Lebedyn