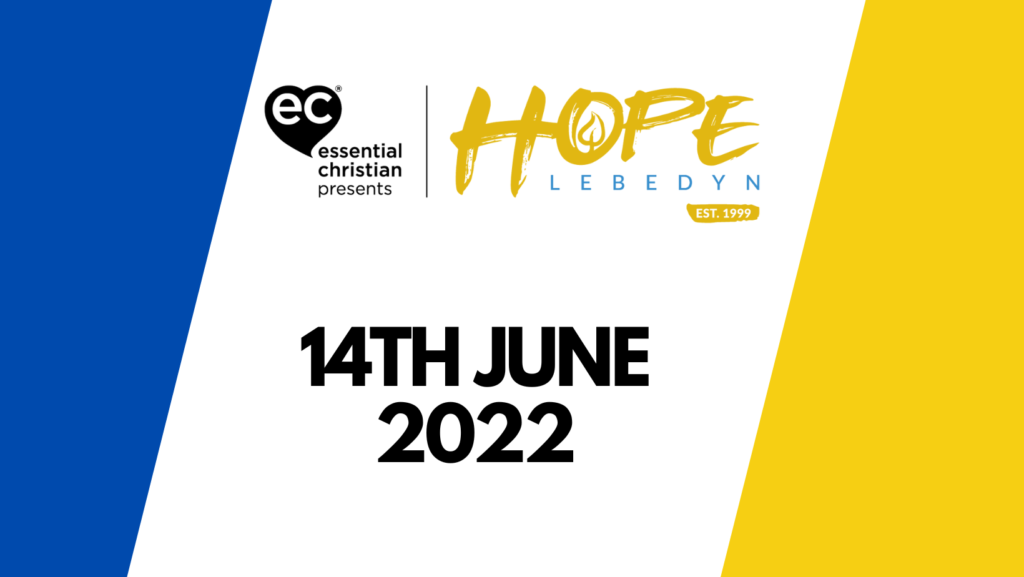 Urgent support required:
If you would like to support us financially you can do so below. Remember, if you are a UK taxpayer, please confirm that you would like to reclaim Gift Aid on your donation. This will add 25p to every £1 you give.
Dear Friends,
We wanted to share with you about some of the recent work taking place in Lebedyn. You will also find a list of prayer items that we would be grateful if you could pray into with us.
Thank you to each and every person who has supported the work of Hope Lebedyn. There are many people that have contributed to the cause in so many ways. Your continued help makes a real difference. The team thank everyone for their love, prayers, and support. Thank you all.
Despite the constant threat of war, the team out in Lebedyn continue to do what they can. There is a tiredness but the war does not stop. Your continued prayers are much appreciated.
Busy children's clubs and services for the community
Last Saturday morning the team held a serving and meeting for those with hearing impairment. Whilst numbers were slightly lower than anticipated, those that did attend were appreciative of all that went on. They shared stories of what happened through the war as well and as some of those that were heart-breaking. It is several years since this group of people have met and I think they will be meeting again soon in a time of much-needed fellowship!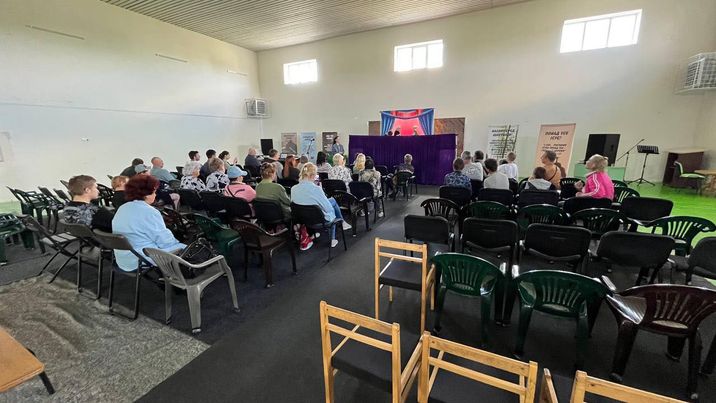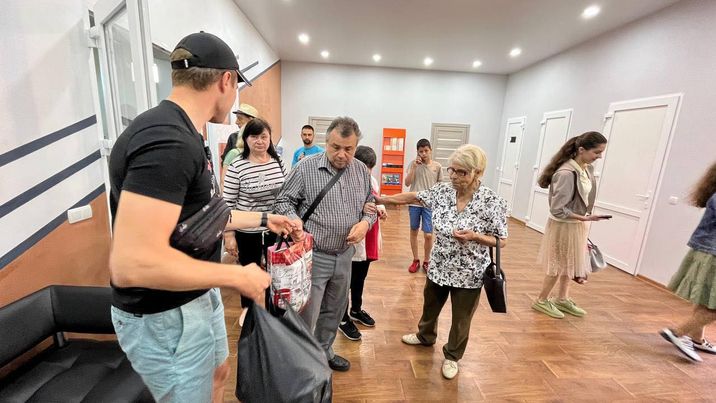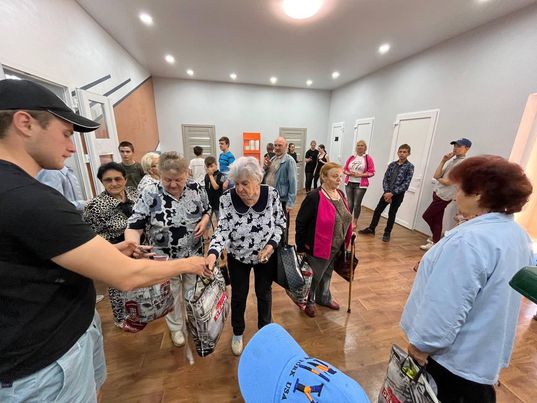 An afternoon of fun and food!
The afternoon was then followed by the weekly children's club. It was great to see over 50 children arrive with their The weekly children's club then took place in the afternoon. It was great to see over 50 children arrive with their parents for much fun and food. The toll of war is telling as people are missing loved ones fighting or who are separated for various reasons. The team are on hand to listen and at times that is painful as well as being a blessing to help.
Below is a picture of all the children together. They were each given a present, alongside some food to take home with them for all their family. There is now going to be a couple of weeks break as the team focus on preparing for the camps where most of these children, alongside many others will gather – war permitting. As you can see from the rest of the photos below, much fun was had and the parents stayed with them throughout the whole time.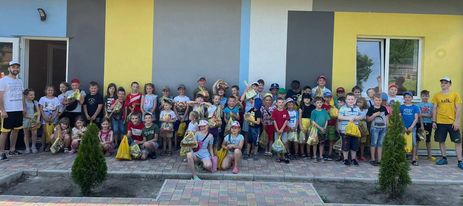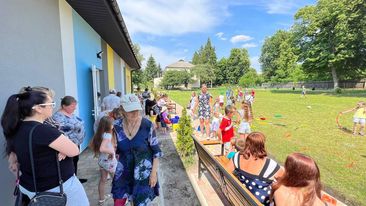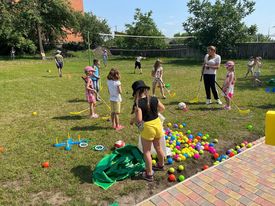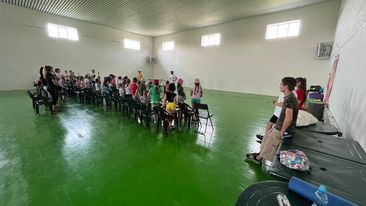 A heart-felt service and a reminder of God's faithfulness in the war!
Last Wednesday on the 8th of June, the team invited many displaced families to the centre for a service and to see how they can help. It was a very moving time and they had around 150 people arrive who had not come to the centre before. Many people left with tears in their eyes after sharing stories and receiving such love and care.
Our Mission Director shared with people how throughout the midst of the war, they had been able to regularly help feed and clothe around 1,500 people. This is amazing for such a small team in a time of war. They have distributed many trucks full of aid. They have supplied medicines to soldiers, hospitals including x-ray machines.
They have been able to run children's and youth clubs weekly to help the families that have settled in the area reaching over 100 young people each week. They have distributed over 450 adult Bibles, 600 New Testaments and over 1,500 Gospels of John and around 3,000 Christian tracts and booklets, all given personally to those that want to receive them. Bohdan has asked to pray that God will continue His wonderful work that He has begun in this difficult time!
You can see some of the pictures from the gathering below: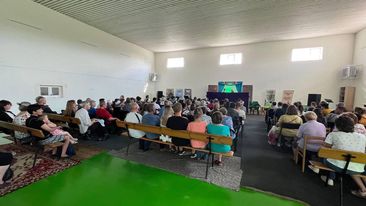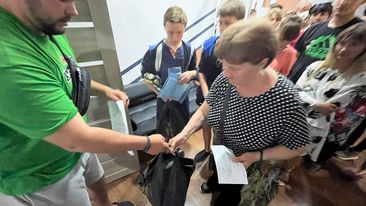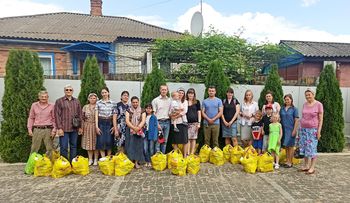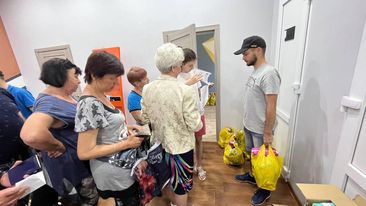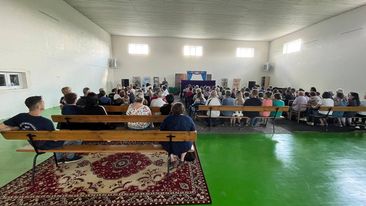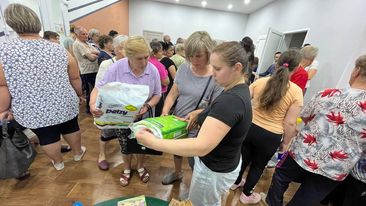 Fixing the centre and a big delivery of flour!
As you might have seen on the previous blog, we were able to temporarily patch the roof to ensure the original centre was fit for purpose again. Last Tuesday we were able to secure windows and doors for the original centre within Ukraine at very favourable prices. We hope to have these installed soon before inflation kicks in and puts the price out of reach.
Last Tuesday, the team also received a huge delivery of flour. Much of this will be given away but it will also help with the baking of loaves of bread which are given away each week. When I spoke to our Mission Director and another team member through a video call, they mentioned how of breath they were after lifting 100's of 25kg bags of the flour! Who needs a gym!
Prayer Requests:
1. Please pray for our Mission Director's wife who is expecting her baby very soon!
Our Mission Director's wife is expecting her baby very soon! Alongside the challenge of the curfew hours and the additional complication of the sirens, it has been a worrying time for them as they tried to anticipate when the best time was to head to the hospital.
Eventually, due to increased shelling in Sumy, they made the decision to travel to the local hospital as missiles have been going off and sirens sounding. Please pray for the safe arrival of a healthy baby girl and for peace in all their hearts and minds!
2. For wisdom and rest for the team as they prepare for this year's summer camps
The team are hoping to take some well-deserved time off to recharge their batteries before this year's summer camps take place.
The team were planning to take some days off during the next two weeks and have some people around day by day as they prepare the centre and site for the summer camp programme. Unfortunately, however, this has not yet been possible with many sirens going off more frequently again. There is a great fear that the Russian troops are once again building momentum and getting ready to cross the border once again.
Our Our Mission Director has said mentioned that they are living their lives in total tension not knowing how to plan and even if they will be safe when they sleep. It is so tough for them. Please do pray for God's supernatural peace to fill them amid unbelievably heart-breaking and difficult. Please also pray for the team to find time to rest, both physically, spiritually, and emotionally. Please also pray that this year's summer camps will be able to take place and will serve as a haven of fun, games, and good fellowship for many young people!
3. For access to fuel which is currently in extremely limited supply
The shortage of fuel is still a big problem. Whilst the team have been able to support the practical needs of those further away and complete food aid runs, however, because of the worsening fuel situation (which is not currently getting any better), they are deciding to focus on doing more activities and gathering at the centre.
Please pray for the provision of more fuel in the region since they will need this for important future travel visits.
4. Adults and children experiencing trauma and resources to help support them
A key thing that the team are becoming increasingly aware of is the mental trauma that is evident in some of the children and adults.
This is a growing need and we are hoping to find more resources to help those struggling with the trauma, anxiety, and anguish of the war. Please pray for this as we will need resources to support people in this area, including more Bibles.
5. Prayer for peace from increased military activity and for the team to continue to support nearby villages
The Oblast (county) of Sumy has seen an increase in military activity but thankfully nothing too close to the centre. The team have been asked to help many villages which have been crushed by the Russian army. Plans are now being made on how we can help further, so please do pray for wisdom as the team work together to plan how they can practically and spiritually support the needs of nearby villages.
Thank you
I am so grateful for all your support. As always, our Mission and Music Director, alongside all the rest of the team send their thanks and greetings on behalf of the team and the church there.
Every blessing,
Peter Martin
Founding Director of Hope Lebedyn