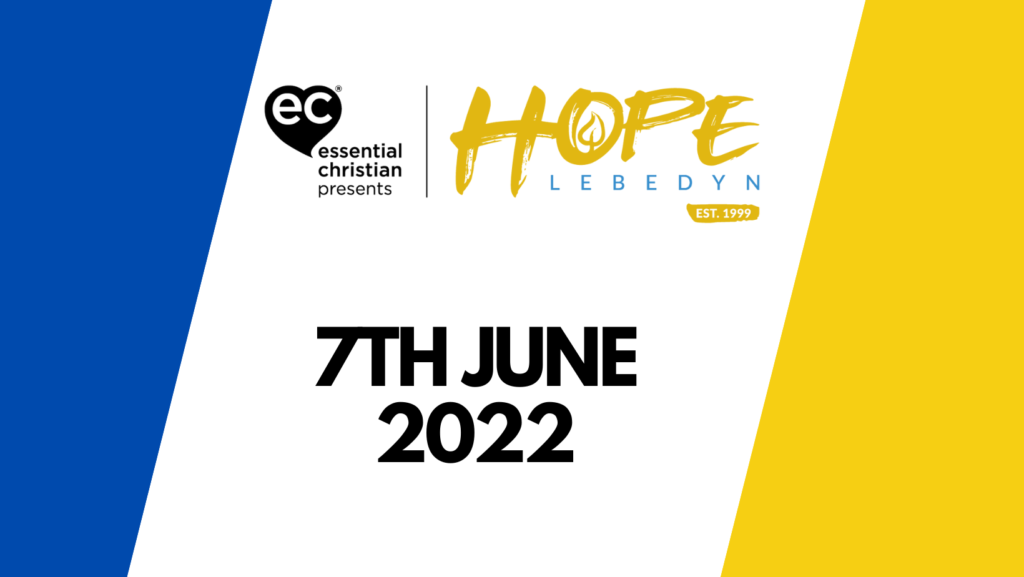 Urgent support required:
If you would like to support us financially you can do so below. Remember, if you are a UK taxpayer, please confirm that you would like to reclaim Gift Aid on your donation. This will add 25p to every £1 you give.
Dear Friends,
This latest news update seeks to share with you so of the recent work the team in Lebedyn have been busying focusing on. You will also find a list of prayer items that we would be grateful if you could pray into with us.
I would also like to say thank you to each person who has supported the work of Hope Lebedyn. There are many people that have contributed to the cause in so many ways. Your continued help makes a real difference. The team thank everyone for their love, prayers, and support. Thank you all.
The arrival of 500 Bibles!
With the support of Mission Eurasia, the team were delighted to receive five hundred Bible's which arrived at the centre! During this terrible war people are searching for hope and to make sense of all that is going on.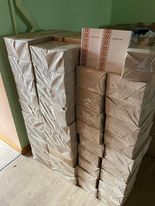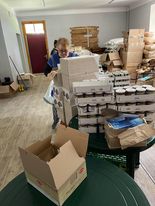 Whilst the delivery of these Bibles will bless many and help bring hope amongst neighbouring villages and towns, the team still require more Bibles to distribute of which we are now exploring other channels. Unfortunately, the stocks are low everywhere, so please do pray for provision of more Bibles going forward.
The distribution of Christian youth magazines
Last Wednesday on the 25th of May 2022, the team received some Christian youth magazines and some Christian comics filled with Bible stories and they have been passing these out too. These have all been very well received!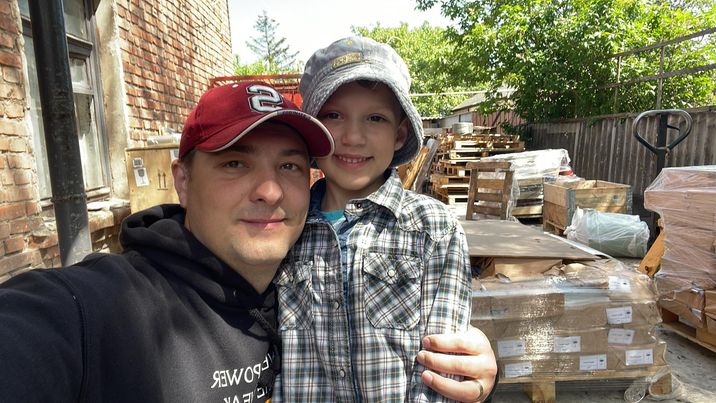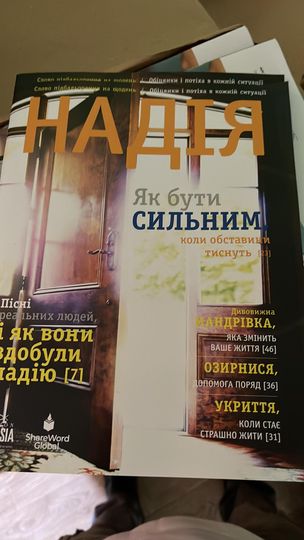 Bible classes recommence!
As of last week, the team started their evening Bible classes again! It had been one hundred days since their last one and they were delighted to see over twenty young people from the town come to study, engage, and discuss in the session. This week's theme was how to live as one big family with God.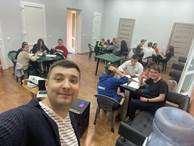 Services, special meetings and distributing aid
During the past few days, the centre has been busy with meetings, distribution of aid and continuing to help those in the region. The team are now ticketing people who come to receive supplies to help keep some records of who is requesting help and to ensure we can keep meeting the need going forward. Every day there is a special focus plus those with emergency requirements. Yesterday was special as many came through the centre who have arrived in the area with or as part of large families. The puppet theatre, youth and children's teams were on hand for fun and chat. You can check out of some these photos below from the special service: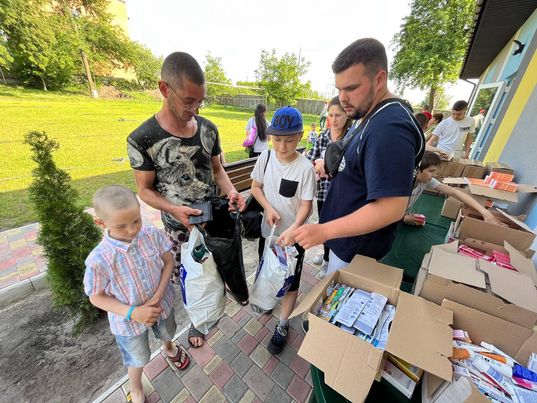 Displaying God's love to a nearby village:
Having heard about the missiles being fired across the border they heard of a need in a village which is located just 2Km form the Russian border. There is no official church there but several Christian families who gather in a home to pray and this has been growing with many more local people now attending - many of whom would not normally have attended church otherwise.
They had no food or Bibles as most of their homes had been destroyed. They had an amazing time and took a service for them before handing out aid to all that came along. They gave food, hygiene items, clothing, nappies, medicines and most importantly books and Bibles to give hope The team also left more aid for the small church there to distribute further to those in need. People had tears in their eyes and our Mission Director mentioned how special the time was and the joy of all being together. It really was a wonderful service and provided an opportunity for the team to practically show the love of God.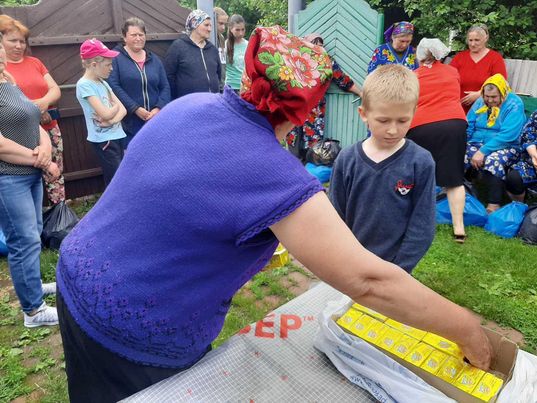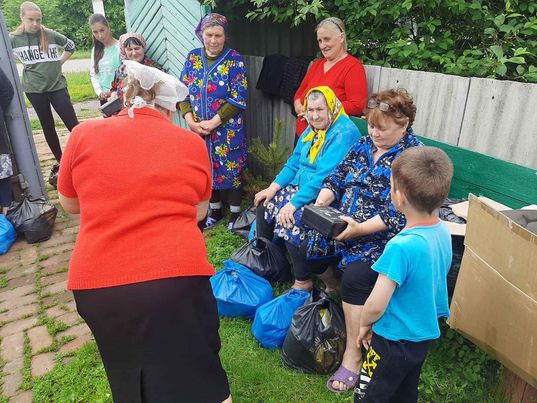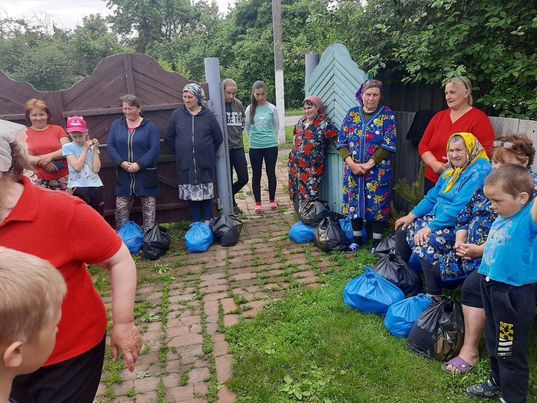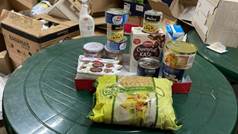 Fixing the centre roof
A while back we reported that the roof had to be fixed and that we had two quotes since it really needed replacing. However, due to the constant threat of missiles in the area, we decided to patch the roof making the original centre fit for purpose. Today they finished and now the building will not leak water. You can explore these photos below: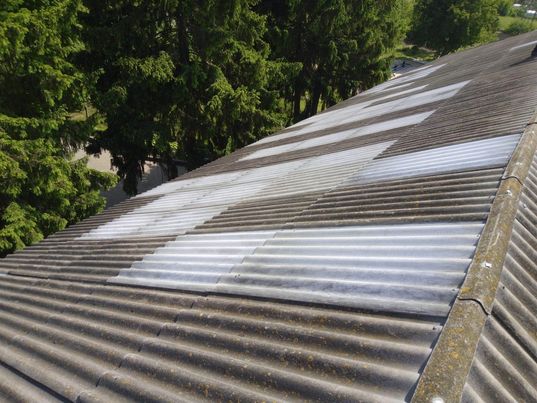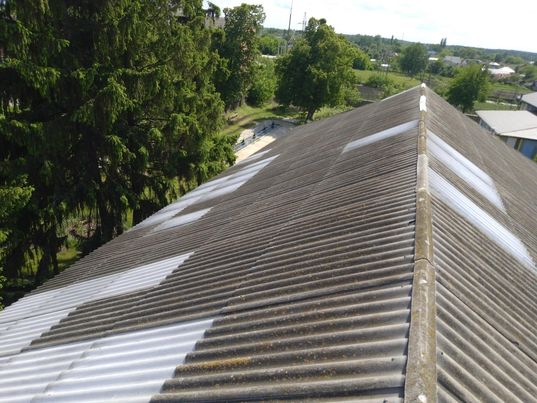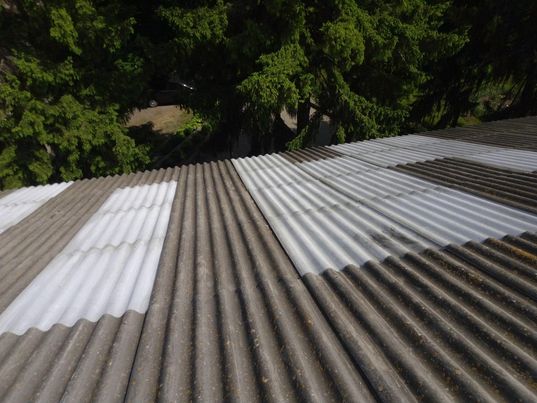 However, please do pray for wisdom as we work out the best and most economically solution for the windows. Unfortunately, there is no cover for war damage in any insurance so all of this will have to be funded in due course as we need all the buildings fit for purpose as the work continues to grow and expand.
Prayer Requests:
1. Please pray for the provision of more aid going forward to support those in need
The team have been able to support the practical needs of the community. Please do join us in praying for the protection and safety of the team as they visit villages close to where there is strong military activity.
To continue meeting the desperate needs of individuals and families of local villages and children arriving the local orphanage, please do pray for the provision of more aid going forward. Alongside practical aid and support, including food and clothes for the children, please do pray for the provision of more Bibles. It is clear that during his terrible war people are searching for hope and to make sense of all that is going on.
2. For fresh energy and strength from the strain and tiredness of the war
From speaking to our Mission Director, the whole team are now starting to feel the strain and tiredness of the war. There is weariness from not knowing what the next hour might bring let alone the next day, alongside the constant threat of harm and the uncertainty of not knowing where food might come from. They just want peace.
Our Mission Director has said that they have seen so much answer to prayer and is so grateful to each and every one that prays for them and Ukraine at this time. It has sustained them. So, thank you again for all the ways you've have supported them during this exceedingly difficult and strenuous time.
3. For access to fuel which is currently in extremely limited supply
The shortage of fuel is still a big problem. Whilst the team have been able to support the practical needs of those further away and complete food aid runs, however, because of the worsening fuel situation (which is not currently getting any better), they are deciding to focus on doing more activities and gathering at the centre.
Please pray for the provision of more fuel in the region since they will need this for important future travel visits.
4. Adults and children experiencing trauma and resources to help support them
A key thing that the team are becoming increasingly aware of is the mental trauma that is evident in some of the children and adults.
Whilst it has recently been more peaceful in the area, the far distance bombs and missiles can be heard as the Russians still launch these at random. Our Mission Director has noticed that everyone is finding this quite difficult hearing all this going on and the children finding it scary.
This is a growing need and we are hoping to find more resources to help those struggling with the trauma, anxiety, and anguish of the war. Please pray for this as we will need resources to support people in this area.
Services were held on Sunday but as I alluded to in Saturday's report Bohdan was feeling exhausted. He set out to have a lie in on Sunday as he was not speaking at church and woke up at 3pm in the afternoon! I think that itself tells a story but we are glad he is taking some rest in between all that is going on.
5. Prayer for our Mission Director's wife who is heavily pregnant
Our Mission Director's wife is heavily pregnant and is expected to arrive very soon. She has been feeling extremely uncomfortable so please do pray for protection over her and their baby and for the discomfort that she has been experiencing.
Thank you
I am so grateful for all your support. As always, our Mission and Music Director, alongside all the rest of the team send their thanks and greetings on behalf of the team and the church there.
Every blessing,
Peter Martin
Founding Director of Hope Lebedyn