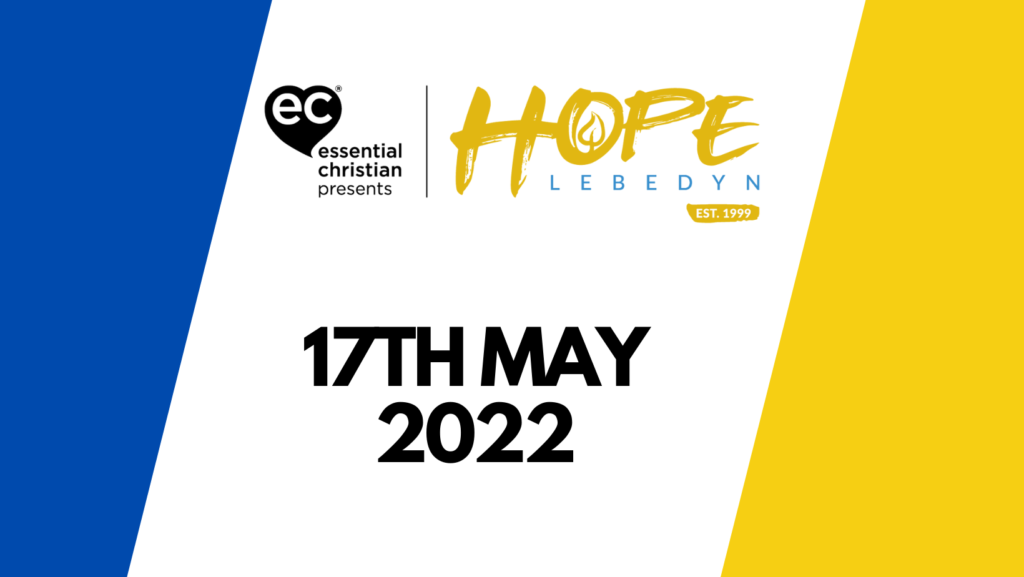 Urgent support required:
If you would like to support us financially you can do so below. Remember, if you are a UK taxpayer, please confirm that you would like to reclaim Gift Aid on your donation. This will add 25p to every £1 you give.
Dear Friends,
As always, thank you so much for your continued support and encouraging comments.
Alongside sharing with you some of the work the team have been doing, you'll also find a list of prayer items that we would be really grateful if you could pray into with me and all the team. As always, the team out in Lebedyn are doing such an amazing job, working long hours to meet both the spiritual and physical needs of those around them.
Special planned events for those with disabilities and children!
On Saturday the 14th of May, the team were very busy delivering two different events for children and families within the community. With Both were incredibly special gatherings and with both planned events taking place, the team ending up interacting with over 250 people once again.
A special meeting for those with disabilities
In the morning, they were able to deliver a special meeting for those with disabilities. The team had initially planned this for the children but many turned up and were invited to join in as well! The new centre building is very accessible and therefore proved extremely helpful when they hosted the meeting!
A fun-filled afternoon at the children's club!
After a busy morning, the team tidied and cleared away ready to open their doors to children and parents!
Children of all ages attended all the fun and games, with lots of activities taking place outside. For the first time, the team welcomed over 50 children and it was evident that people were building up confidence to be outside again instead of taking shelter throughout the entire day. As part of government instructions, parents must still attend.
The kitchen was filled with lots of children excited to bake their very own pizzas! As you can probably imagine, these didn't last long on the plates!!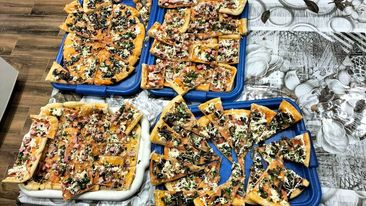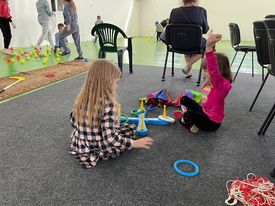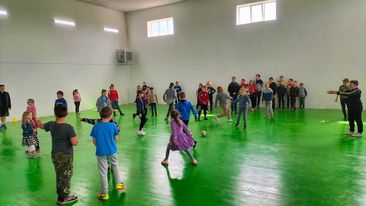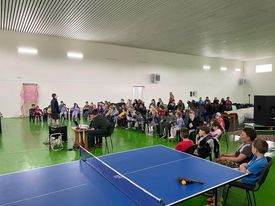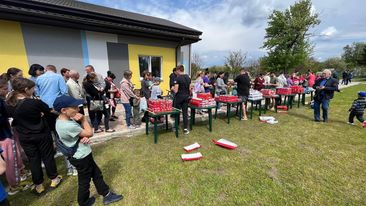 Supporting surrounding villages with aid
The team are continuing to shine God's light and practically support the need of those around them. Lots more help is being given daily, people are being fed and they are continuing to help bring back villages to life.
They've had a busy few days travelling throughout the surrounding villages and identifying what help is needed. Even though much of the infrastructure is damaged, they still have quite a few displaced people and families coming in. Please continue to pray that the team continue to support the needs of those around them in whatever way they can.
The photos below were taken by the team on the 10th of May, following their visit to a nearby villages. They arrived with vehicles full of aid and were able to hand them all iCare parcels kindly given to us by Mission Eurasia, alongside a selection of other food and supplies.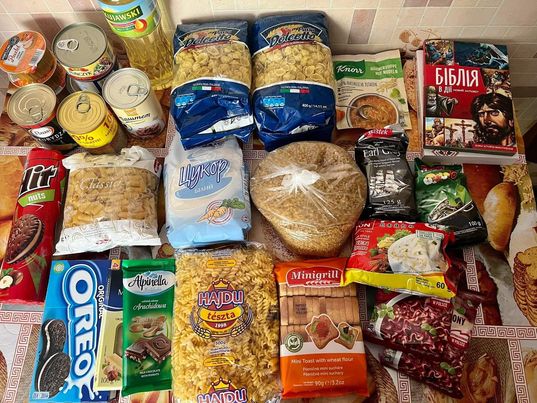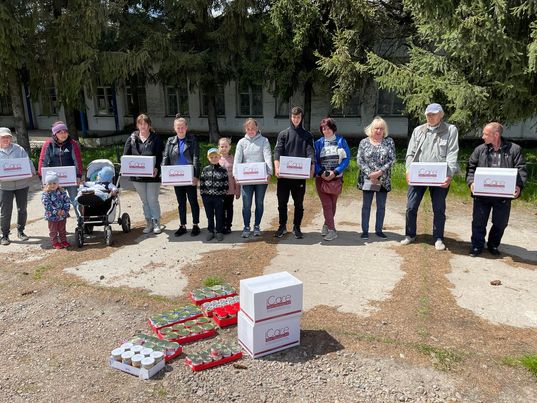 Thank you
I would love to take a moment to say thank you to each person who has supported the work of Hope Lebedyn. There are many people that have contributed to the cause in so many ways.
We have young Kesia who raised £127 by selling cakes, toys and all sorts on her driveway, then to churches having gift days with some donating thousands. I was also recently presented a cheque for £250 by Ian Lucas, owner of Janet's Flowers in Eastbourne who created special Ukraine coloured bouquets over Mother's Day and a commission given to Hope Lebedyn. (See picture below). Every donation is truly valued for the help that it gives.
On Thursday 12th May, there was a fundraising meal hosted and organised by Colin and Mike who are owners of Lynn's Travel too. Mike is Hope Lebedyn's longest serving and most senior ambassador (not just by age!) to the charity having made more trips to Lebedyn over 20 years than anyone else put together. Mike and Rachel and Colin and Lynn are also part of a wider Eastbourne support group whose help over the years has been invaluable to the charity both in prayer and other ways.
Over these past months I have seen people do the most kind-hearted of things, who have encouraged and done all they can. This is not just in Eastbourne where we are based but right around the world. The prayer groups that have sprung up globally and has been done individually is as valuable as any monetary gift donated. Seeing the images of Lebedyn compared to the villages that surround it having been flattened and destroyed is testament that prayer has made that difference. Thank you all.
Prayer Requests:
1. For the team to continue to support the needs of surrounding villages in the region
The team are doing such an amazing job, working long hours to meet both the spiritual and physical needs of those around them. Since speaking with our Mission Director, we are aware that an opportunity has recently arisen to bring some humanitarian aid into the region. It will mean hiring lorries, finding fuel and some of it will have to be purchased. Given the volume of help we are giving in within the region, the team will definitely need to more aid to help further. Please pray for provision for this!
Alongside the provision of aid, please also pray for vehicles, and supplies to support the desperate need of individuals and families within surrounding villages too.
2. For access to fuel which is currently in extremely limited supply
The team have been able to support the practical needs of those further away and complete food aid runs, however, because of the worsening fuel situation (which is not currently getting any better), they are deciding to focus on doing more activities and gathering at the centre.
The shortage of fuel is also down to the three main fuel distribution centres in the east being bombed so fuel is getting extremely hard to find. Please pray for the provision of more fuel in the region since they will need this for important travel visits.
3. Adults and children experiencing trauma and resources to help support them
A key thing that the team are becoming increasingly aware of is the mental trauma that is evident in some of the children and adults. The youth tend to be more acceptant of what is happening but many children are struggling to communicate. We know of two recent arrivals of families from high impact areas where they simply cannot talk and express how they are feeling with all that they have seen.
This is a growing need and we are hoping to find more resources to help those struggling with the trauma, anxiety, and anguish of the war. Please pray for this as we will need resources to support people in this area.
4. The repair of the external structure of the centre
We have now agreed with a local builder a very good price to professionally patch the roof of the centre. This will need more work but until the uncertainty has lifted, we do not think it wise to put money into new roofs right now.
Other reparations are taking place to get the centre back up and working as well. This will take time but with more and more people coming then we are going to need the space. We have also found that the new building has suffered a bit more damage than initially thought, specifically the damage caused to the doors. They have been temporarily fixed but will need to be replaced in due course. Please pray for the professional work on the roof to be effective in making the roof watertight.
5. Preparation for the children and youth camp programmes!
Next month, the team still plan to open their doors to the children and youth to hold their annual camps. We plan to do two children's camps based at the centre. They also hope to hold one or two camps within local villages and if it is safe, a proper camping break with the youth. Then children's camps take place over five days based at the centre where they are fed meals and have all kinds of fun activities as well as bible stories shared. They go home to sleep and do not stay there.
This year we plan to work with a German association of Christian Doctors and a Ukraine organisation doing the same. Hopefully, they will be able to attend and then to check up the children who have not been able to see any doctors for a while now.
Thank you
I am so grateful for all your support. As always, our Mission and Music Director, alongside all the rest of the team send their thanks and greetings on behalf of the team and the church there.
Every blessing,
Peter Martin
Founding Director of Hope Lebedyn