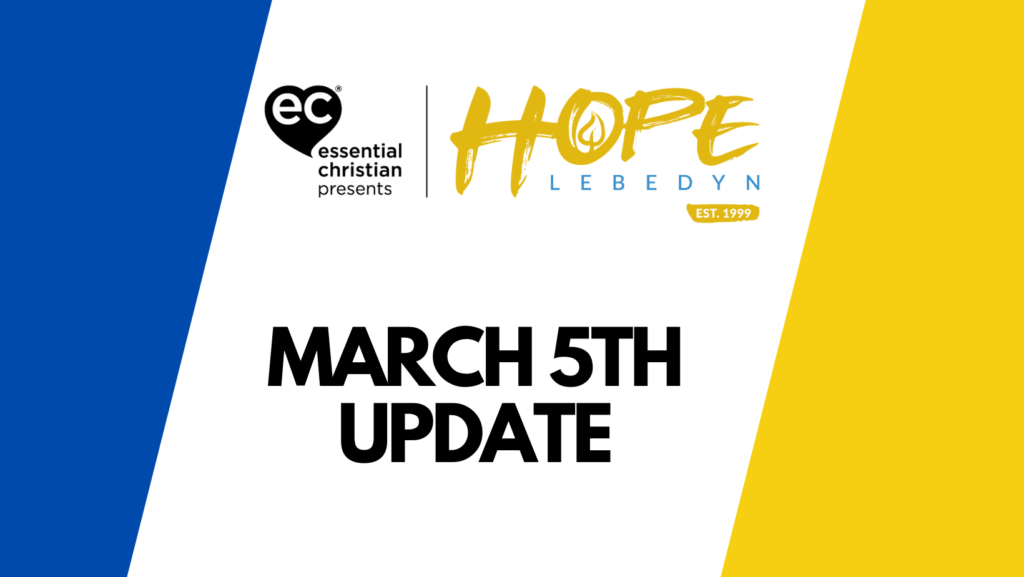 Urgent support required:
If you would like to support us financially you can do so below. Remember, if you are a UK taxpayer, please confirm that you would like to reclaim Gift Aid on your donation. This will add 25p to every £1 you give.
Dear Friends,
As we mentioned in our last update to you, Lebedyn was under siege and bombs had taken out both the electrical and water supply. We were able to find out through a friend that everyone was ok. However, through the night fuel stations and phone masts were knocked out with bombs.
Our translator who is located in Poland was able to miraculously make contact with her mother who was told that she was safe and that the bombs had gone to facilities rather than civilians. They have heard that one house situated next to one of these facilities has now been bombed as well but they were unsure of casualties.
Furthermore, this morning on the 5th of March, we woke up to the unfortunate news that planes have been bombing Lebedyn all night with over 60 big explosions. There was a small electric substation very near to the Centre that was targeted heavily and unfortunately is now destroyed.
The bombing from this has affected the Centre and whilst it has not specifically been bombed, the building itself has felt the full force of the explosions, blowing out of all the windows and doors and leaving a devastating impact inside. Currently the new building is fully intact which we are thankful for.
Some of the team that are able to come to the Centre are now assessing and clearing away all of the damage. They are also coming together to pray. Please also join us in prayer for the city of Lebedyn and wider Ukraine and for their safety. The situation in Lebedyn is now very desperate. Unfortunately, it is now no longer inexperienced soldiers but fully trained ruthless soldiers who are now fighting.
Below are two pictures from our Musical Director and his wife who are now taking refuge in a bomb shelter. These pictures tell the reality of this story.
Please join us in prayer
Our Mission Director has said that the best thing we can do right now is pray. He also added that that they have never felt closer to God then right now. The team have given away everything they have to share with others.
Please also continue to keep our Mission Director and his family in your prayers. His wife is currently 5 months pregnant and needs constant food and water. Please pray for her health and protection also.
Please also keep praying for them in Lebedyn as there is still much fighting tonight and the lack of food and water is of great concern.
My thanks to you all for your continued prayers and support.
Every blessing,
Peter Martin
Founding Director of Hope Lebedyn
Remember, if you are a UK taxpayer, please confirm that you would like to reclaim Gift Aid on your donation. This will add 25p to every £1 you give.